'If you find earth boring, just the same old same thing. Come on sign up with outer space ways incorporated'-Le Sony'r Ra
It's hard to imagine the year is already in the back stretch. There have been quite a few good concerts in the bay area this year, including the Sun Ra Arkestra on August 6th at the SF Jazz center. The concert we caught was the final night of a 4 night stretch which boasted different compositions each night. Led by longtime alum and maestro, Marshall Allen the Arkestra once again made good on their word to take every member of the audience to outer space.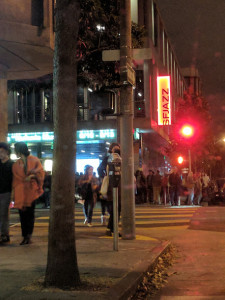 Maestro Allen has transcended above any doubts fans might have had of whether he and the Arkestra would be able to adapt to a world without Sun Ra himself still in it. In fact, Sun Ra's very presence seems to be now somehow channeled through Allen as their compositions continue to inspire and evoke communication and the culture from some distant planet. Throughout history, many musicians and cultures have longed for an extraplanetary connection only to seem destined to fall short of such communications. The Arkestra has quite a track record for such a connection, not unlike the Dogon tribe in Mali.
Sun Ra was well known for his compositions and improvisations as well as his ability to draw the Arkestra's talented and devoted group members. It does appear that Maestro Allen also serves as an inspirational musician who plays alto saxophone, flute and EVI. The EVI is an electronic wind instrument which Allen uses in a way not dissimilar to the way Sun Ra utilized synthesizers to explore sounds that enter our auditory realm from outer space while the band rhythmically swings and bops and paints auditory landscapes. Joined by saxophone, bassoon and flutist Danny Ray Thompson, alto saxophonist and singer Knoel Scott the group performed a wonderful version of the Sun Ra classic 'Dreams come true'.
Michael Ray is also a longtime trumpet player and member of the Arkestra is also know for his work in Kool and the Gang, his own group Michael Ray and the Cosmic Krewe and other groups as well. The band also included singer Tara Middleton, percussionist ElSon Nacimento, Cellist Kash Killion and guitarist DM Hotep. Pianist Farid Abdul-Bari Barron plays in a wonderful barrel house style that fits in so well with the Arkestra and he is a wonderful spirit to have in the group.
For another take on the Arkestra and on Sun Ra, please have a look at my first vlog here.
∴∴∴∴∴∴∴∴∴∴∴∴∴∴∴∴∴∴∴∴∴∴∴∴∴∴∴∴∴∴∴∴∴∴∴∴∴∴∴∴∴∴∴∴∴∴∴∴∴∴∴∴∴∴∴∴∴∴∴∴∴∴∴∴∴∴∴∴∴∴∴∴∴∴∴∴∴∴∴∴∴∴∴∴∴∴∴
On Tuesday, July 25th L.A. based guitarist songwriter Vanessa Silberman brought her tour to the Blue Lagoon in downtown Santa Cruz. Her band included Reed Mullin (Corrosion of Conformity, Reed Mullin Music) on drums and Mikel Ross (Dreamstar Productions, Lucky Recording, Inc.) on bass. Playing a short but blistering set the trio played loud and fast, supporting her 2016 self titled EP. The edgy rock written by Berkeley born Silberman likens back to post punk era 90s such as Scrawl and Nirvana. Those folks put on an amazing set and brought along Boston singer songwriter Carissa Johnson as an opener.
∴∴∴∴∴∴∴∴∴∴∴∴∴∴∴∴∴∴∴∴∴∴∴∴∴∴∴∴∴∴∴∴∴∴∴∴∴∴∴∴∴∴∴∴∴∴∴∴∴∴∴∴∴∴∴∴∴∴∴∴∴∴∴∴∴∴∴∴∴∴∴∴∴∴∴∴∴∴∴∴∴∴∴∴∴∴∴
On Monday June 19th the one and only Lee 'Scratch' Perry performed at the Catalyst atrium in Santa Cruz with NST & the Soul Sauce from South Korea. It was one of two bay area shows, performing at the Mezzanine in SF and at the Sierra Nevada World Music Festival. Performing alongside the dub pioneer was Subatomic Sound System, a Brooklyn based band who toured exclusively with Mr. Perry around the US performing the classic Upsetters record Super Ape, from 1976.
This year's incarnation with Noah Tha Riddum Doktor and Subatomic performed the single they cut with Scratch entitled 'Black Ark Vampires' as well as well know including 'Zion's Blood' and 'I am a madman'. Perry tours extensively and the 81 year old singer, producer and inventor of Dub music has a storied career with his years at Studio One, the Black Ark, with producer/engineers Adrian Sherwood, the Mad Professor and others.
Originally born in Kendal, Jamaica, Perry's mother was of Nigerian ancestry. He now lives in Switzerland and tours Europe extensively performing with Sherwood and Mad Professor in England, Pura Vida from Belgium, and has a new release with Cookie the Herbalist  from Switzerland entitled Ease! The master of dub proves that he is still a force to be reckoned with his quirky style and energetic shows. Wonderful sets from Perry and NST & the Soul Sauce.
∴∴∴∴∴∴∴∴∴∴∴∴∴∴∴∴∴∴∴∴∴∴∴∴∴∴∴∴∴∴∴∴∴∴∴∴∴∴∴∴∴∴∴∴∴∴∴∴∴∴∴∴∴∴∴∴∴∴∴∴∴∴∴∴∴∴∴∴∴∴∴∴∴∴∴∴∴∴∴∴∴∴∴∴∴∴∴
On Sunday, April 30th, Adam Carter AKA A-Plus from Souls of Mischiefand Hieroglyphics brought his Spring Cleaning tour from Oakland to the Blue Lagoon in Santa Cruz. With a set that included Hiero classics such 'You never knew' as well as the Souls of Mischief hit '93 til Infinity', and music from his solo career including Patna Please.
Joined by Producer Jerome Foster AKA Knobody,  A-Plus performed with DJ Nocturnal and refers to this group as Grow Theory. Their anxiously awaited record is in the works and will be yet another group coming from the Hiero Emporium record label from the sunny side of the bay. Nothing but fun times every time I make it out to see any Hiero member and certainly they make the bay an exciting mecca for fans of old school hip hop.
∴∴∴∴∴∴∴∴∴∴∴∴∴∴∴∴∴∴∴∴∴∴∴∴∴∴∴∴∴∴∴∴∴∴∴∴∴∴∴∴∴∴∴∴∴∴∴∴∴∴∴∴∴∴∴∴∴∴∴∴∴∴∴∴∴∴∴∴∴∴∴∴∴∴∴∴∴∴∴∴∴∴∴∴∴∴∴
The night prior to that stellar night of Hip Hop was Saturday, April 29th and we had a wonderful opportunity to see Oakland saxophone legend David Murray performing with Chicago native  and AACM member Kahil El'Zabar at Don Quixote's International Music Hall in Felton, Ca.
In addition to being a band leader and session artist Murray is well known for being a founding member of the World Saxophone Quartet. He has received many awards including the Village Voice magazine's 'Musician of the Decade' in 1980 as well as winning a Grammy in 1989 for his band's recording 'Blues for Coltrane'.
Kahil El'Zabar performed with many legendary musicians including Dizzy Gillespie, Cannonball Adderly, Nina Simone, Stevie Wonder. El'Zabar is known for his bands including the Ethnic Heritage Ensemble, Ritual Trio, TriFactor, JUBA Collective as well as being the recipient of the 2012 International Ambassador's award in the Arts from former President Barack Obama.
Soulful and rhythmic with infusions of dance, spoken word are some of the memories this wonderful concert left on me. The Duo has three recording out together and they played efforts 'We Is' and a number of other repertoire songs that captivated fans and audience members.
∴∴∴∴∴∴∴∴∴∴∴∴∴∴∴∴∴∴∴∴∴∴∴∴∴∴∴∴∴∴∴∴∴∴∴∴∴∴∴∴∴∴∴∴∴∴∴∴∴∴∴∴∴∴∴∴∴∴∴∴∴∴∴∴∴∴∴∴∴∴∴∴∴∴∴∴∴∴∴∴∴∴∴∴∴∴∴