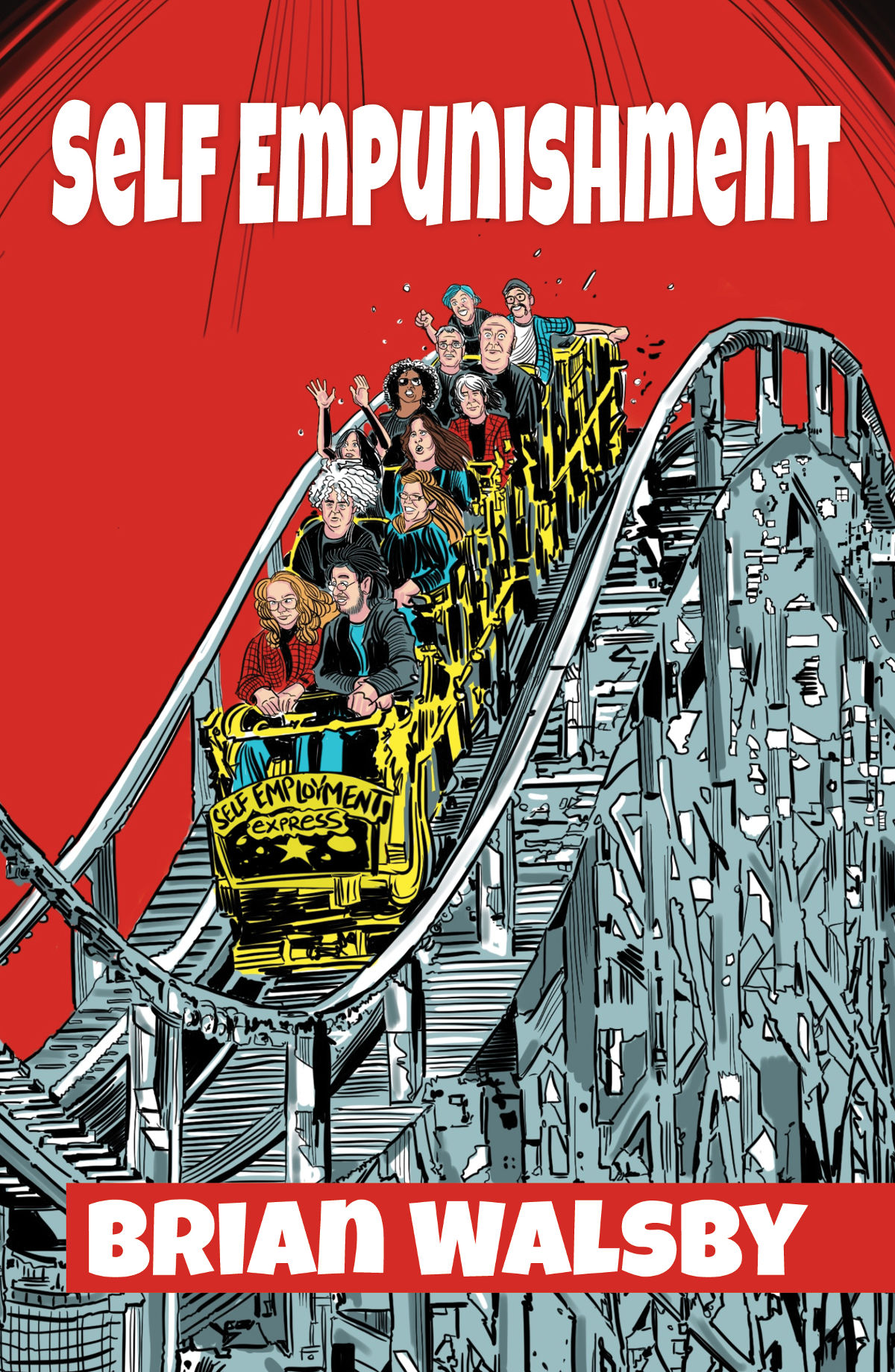 In a series of 34 interviews, illustrator and musician Brian Walsby gives us a glimpse into the world of being a self employed artist in modern times. Walsby, being self employed himself, makes a living, among other things, drawing images and selling them on tour with rock heavyweight band the Melvins. He has illustrated t-shirts through Bifocal Media for the Melvins, Jeff Pinkus (Butthole Surfers), and Redd Kross among others. In his spare time he has written 7 volumes of his book Manchild, a series that reads like a comic book about musicians and musical experiences.
The book is 476 pages with interviews of artists Walsby met on the road while touring with the Melvins, folks he's met over the years attending concerts and through his own musical endeavors as a drummer for quite a few bands in Raleigh and Simi Valley. In addition to his career as a cartoonis, Brian is an excellent drummer and he performed in bands Scared Straight, Wwax, Snake Nation, Willard, the Patty Duke Syndrome, Double Negative among others.
Neon Christ as illustrated by Brian Walsby
Many of the interviews read alot like conversations with Brian providing interesting dialogue. One such exchange comes in an interview with Alice in Chains singer and guitarist William DuVall, who also played in the 80's punk band Neon Christ.
Walsby: I wasn't a super fan of Alice in Chains but I liked Dirt alot and to this day maintain that the band has a unique sound…that is the band's own and they maintain it seamlessly as they did with their late lead singer Layne Staley. What was it like to slot yourself in there musically with Jerry?

William: The harmonizing was always pretty easy from the start. All you have to do is listen. I will say that on our records a lot of attention is given to phrasing and pronunciation. Whichever one of us writes the lyric usually sings it first in the studio. The the other guy has to match the phrasing EXACTLY, even down to the slightest variation of vowel sounds.
For those aspiring to be in the self employed status, Self Empunishment provides a realistic and sometimes enlightening look into what is needed to start working for yourself. With 35 different perspectives on the topic, one picture becomes clear, that of not giving up. Walsby discusses a point in his life when he wasn't drawing as much as he was previously in an interview with fellow illustrator Chris Shary. Shary called him up and asked him what had happened to him, and according to Walsby this is a big part of what inspired him to start drawing again.
A flier by Brian Walsby for his band Willard in support of Merge artists Pure
Walsby first illustrated for zines like Maximum Rock and Roll and has drawn fliers and comics of bands and music, which encouraged him to work in two careers that competed, as an illustrator and drummer. He describes that the drawing won out.
The book contains a few themes that he discusses with a few folks he interviews. One theme revolves around parenthood. With both Dale Crover (Melvins, Redd Kross) and Lou Barlow (Sebadoh, Dinosaur Jr.) Brian discusses what it's like to be an artist and a parent. He hit's on something that I certainly relate to, waiting until your child has gone to bed and trying to pick back up the inspired for something you thought of several hours ago. Barlow claims that he started getting the hang of parenting on his 3rd child, which makes me a bit nervous as a new father of a 5 month old.
Buzz Osbourne, Steven Shane McDonald and Dale Crover of the Melvins
Another theme that might be obvious to those who already follow Walsby's work is that almost everyone in this book knows Buzz Osborne and thinks very highly of him. I mean, I certainly do, and his interview is really interesting and fun as he discusses running his business of the Melvins like they're going out of business in the next 6 months. While Dale Crover's interview is quite funny, Buzz seems like someone who's figured out things on a whole different level than most. The idea is discussed that being out on tour can actually allow more time at home with family than working say a 9-5 job when things are all said and done. After all, there are quite a few months out of the year where work is needed to be done on recording new material and this isn't done on the road.
While in the interview with Crover, he and Walsby cover the point in time when Crover played in Nirvana and how he decided not to continue to work with them and instead to move to San Francisco to follow Osbourne. To touch on the topic of self-employment, Crover and Osbourne recount working briefly but then in a sense going out on a limb to work on the Melvins full time and despite the odds being stacking against them they simply worked hard and it's lasted well over 30 years now. They probably say it way better that it would be possible to describe our write about so it's alone a great reason to buy the book.
There are plenty of OG punk rock community in Self Empunishment including Bob Bert (Sonic Youth, Pussy Galore, Lydia Lunch Retrovirus) Bill Stevenson (Black Flag, Descendents), Keith Morris (Circle Jerks, Black Flag) Mike Dean (Corrosion of Conformity, Snake Nation), Milo Aukerman (Descendents), Jeffrey Pinkus (Butthole Surefers, Melvins, Helios Creed), Steven McDonald (Redd Kross, Melvins, Sparks), Lori Barbero (Babes in Toyland) and well as OG Metal folks Michel Langevin (Voivod) Monty Colvin (Galactic Cowboys) and Steve Shelton (Confessor, Loincloth).
As amazing as all of the interviews with musicians are and I can go on naming names, Eugene Robinson (Oxbow) and Dale Flattum (Steel Pole Bathtub- note: his isn't actually an interview but more of some words he wrote and sent to Brian in case he wanted to include it in the book). The musicians' stories are all unique and fucking great, it's the folks I'm less familiar with like Toshi Kasai (Sound Engineer for the Melvins among others) and Tom Hazelmeyer (U-Men, Amphetamine Reptile) that round out the book, showing many different sides of making a living from one's own artistic endeavors. Rebecca Severin (Frightwig) tells some rad stories of what it was like to be the costume designer for Gene Simmons and Bob Hannam (The Colossus of Destiny, A Melvins Tale) recounts his time working sound for Neil Young and Crazy Horse as well as what it was like working the tour of Crosby, Stills, Nash and Young.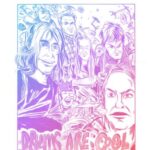 Another theme that seems noteworthy in this book is that drums are cool. As previously mentioned, Walsby is a drummer. He is claiming to be retired from working as a drummer, but being in a group part-time with Mike Dean means that drums aren't something he doesn't do anymore. Also, a chapter entitled An Essay on Drums is the illustrator's own self history from the days he played in the band Scared Straight all the way to his most recent group Davidians.
Slated to be released on October 10th, 2020, on Pelekinesis Self Empunishment is an opportunity for music enthusiasts to delve into the world of free lance artists. Great read.