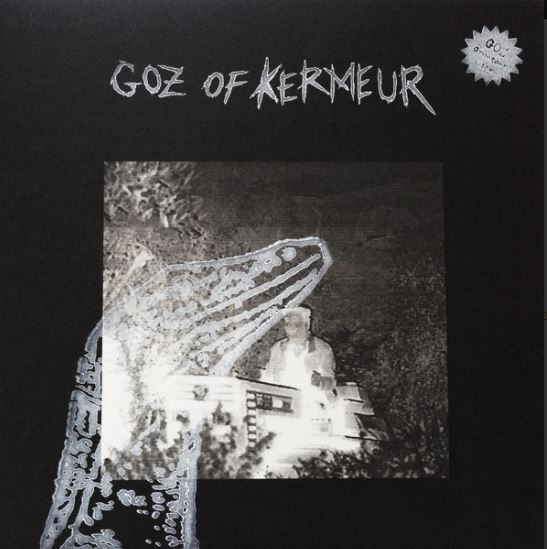 In a way Goz of Kermeur are the greatest band you've never heard. This well deserved vinyl pressing of Swiss' own Goz of Kermeur is a modest 3oo copy pressing for such a special band. Released on the French Jelodanti label, the recordings are from the band's 3 studio recordings as well as the single with Ted Milton (Blurt) 'Inflated Edge'.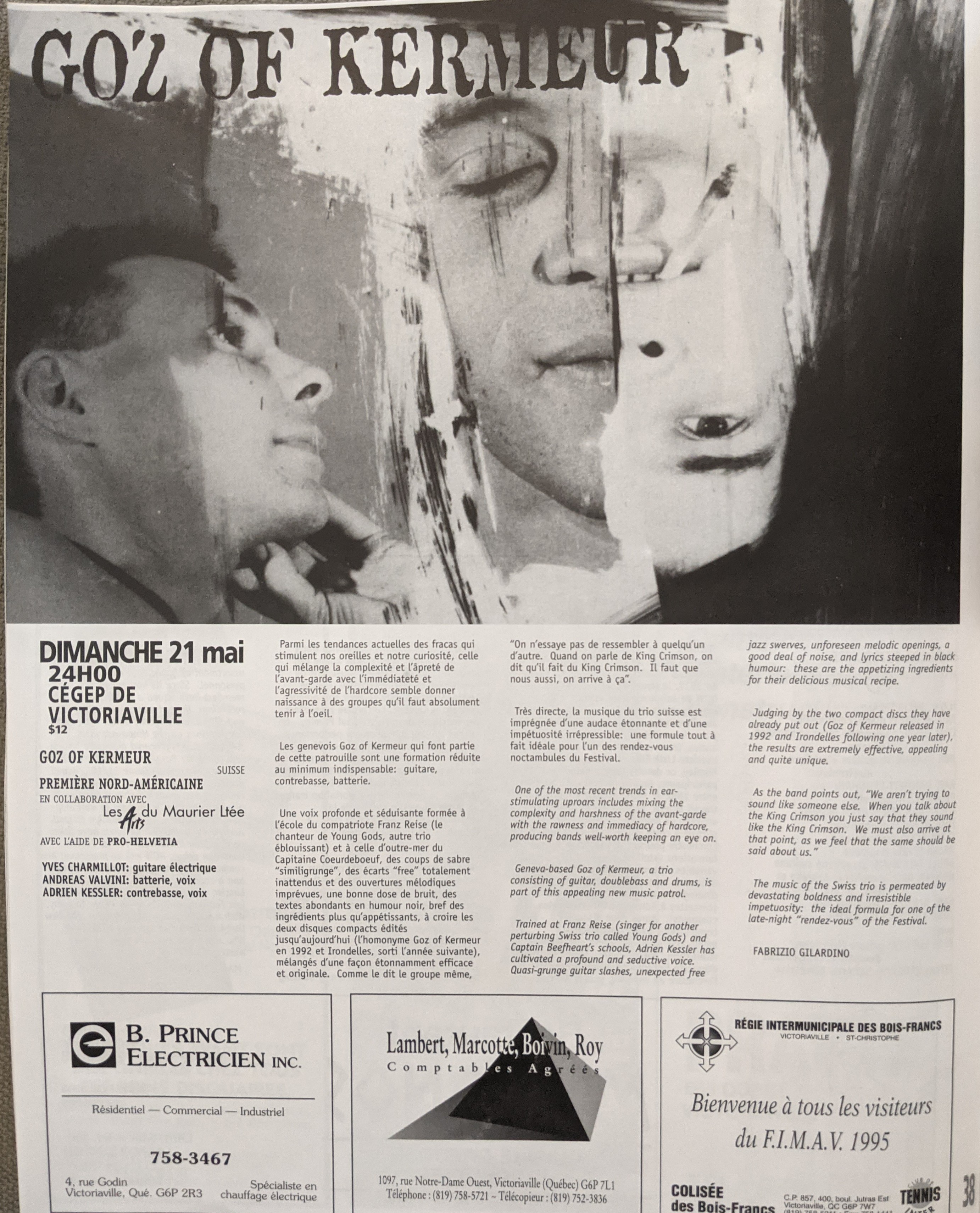 I had the opportunity to see them perform in Victoriaville in support of their second recording Irondelles on Recommended records. It was one insanely fun concert I'll never forget. The FIMAV festival would get some top notch bands and some people might come just to see one artist. Most of those I hung out with in Victoriaville would go there for the entire festival simply because it was a long way to go and there was alot to keep us entertained. You could tell alot of folks came to town just for that show. It was a midnight show and for a full house. There were a few people in the back screaming something like 'L'Intelligencia de Montreal sommes ici!" or something to that effect over and over. They were sitting in the stands. We'd been lucky enough to be seated for this show and even though the concert remained seated the entire time the energy seemed like at any minute some people might start jumping out of their chairs and challenge the whole seated notion idea in some way. I mean these guys were punk. I was able to find the cd at the concert, so I don't think I knew alot about their music before the seeing them, but maybe that was best, because I don't know that the punch they gave would've hit as hard if I'd known what to expect.
At the time I had seen the Jesus Lizard live a few times and the Cows and it sounded like some blend of those bands with maybe Tom Waits singing baritone and tenor at times. I could also add that it made perfect sense for Recommended to be releasing Goz of Kermeur right beside bands like The Ex and the Hat Shoes. In fact The trio played some shows with the Ex, Ornette Coleman, Napalm Death, John Zorn and Legendary Pink Dots, among others. The group was led by singer and double bass player Adrien Kessler, but also the music of the late Yves Charmillot on guitar and Andrea Valvini on drums. Also worth noting the artwork on Irondeles was also done by Kessler.
Only two songs are included from the 1997 release Mythoman and perhaps that feels a bit under represented, however the 1992 S/T release and 1993 Irondeles are both powerhouses, for example the song 'Pain' has a great demonstration of band's sound, singing in both French and Anglais. 'Dibidi' is a song also from Irondeles and the incoroporation of the bow on the double bass also builds into almost a barrelhouse approach to the song. "The night before", proclaims Kessler as he creates an atmosphere of life in an underbelly of a city. A song like 'Bones' from the S/T release goes in a wailing Tom Waits direction, but is way too uptempo for any TW I've heard before. One of the standouts for the entire collection.
A few years after the passing of Charmillot in 2001 Kessler an Valvini worked together again in the group Darling with guitarist Vincent Haenni (Young Gods) and Anne Cardinaud on keys. Goz of Kermeur were in existence from 1991-2000 and it's pretty amazing to get the opportunity to snag a vinyl copy of a band of their ilk who were releasing music in the height of music's cd era. Get some Goz of Kermeur on vinyl while you can.