Vinyl enthusiasts now have yet another store to call home in the east bay.  Econo Jam Records opened a little over 2 months ago and the store on Telegraph Ave adds to the resurgence of record collecting.There's much to love about this new store whether it's the tons of new and used records, some affordable record cleaning kits, or the shopper friendly printed labels of the album title and condition. One thing I really like about this store is that they don't wrap packing tape around the plastic protective sleeves like some record stores do.  I mean, personally I could care less about protecting the celophane that covers a record, but when I'm forced to ruin or damage a perfectly good 3 or 4 mil poly bag sleeve I just shrug my head in dismay.  WTF other record stores? Just figure out an electronic way to showcase your titles and keep them behind the counter if you're that paranoid about protecting your inventory.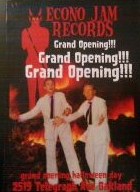 So I'm not quite so sure about the name of this store though.  Seriously, is any record store that economical these days? Most records cost around 17-$28 new. So, while I'll give them the benefit of the doubt that you probably can find a few titles on the cheap compared to Amoeba or Rasputin's in Berkeley, I don't see that they're any more affordable than say 1,2,3,4  go records around the corner. But, who cares right, it's just a name?
I picked up a pretty cool Blind Lemon Jefferson record out of Monk records in Italy. Again, it isn't quite economy since I paid $17 for it, but it didn't really have any hiss and you can tell the recordings were remastered so it's a good find in some ways. There was a pop or skip on one side (which always makes me think this is why someone sold it) but playing records on different turntables can sometimes yield different results so I think I would consider keeping it even if I lived in the city I bought it in and had the option to return it without facing that long drive back.
Nonetheless, this is a good store and if you're looking for a good place to find a curiosity that aren't seeing at the other local stores I'd be encouraging you to go check them out.