Alright so I just bought a pretty decent stash of reocrds. Somebody just offed alot of titles ins my genre and I was listening to that first Defunk record for the first time in about 20 years. There's a song on there that has the lyrics "making love to a photocopy" which I thought was apropos for the ritural of record cleaning and so that's what's going on there with that title.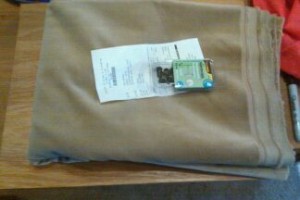 The materials needed to make a record cleaning board are a strong piece of wood (approximately 12″X12″X1″), some velvety fabric, and small nails to hold the fabric to the board.  First, you must wrap the fabric around the board and cut it just like you would to wrap a Christmas gift.
After you've successfully tacked down the fabric you're now ready to clean your wax. Slap the vinyl down and use any of the many types of cleaning kits available or make your own solution with one of the many suggestions out there. I've been using 4 parts water to 1 part isopropyl alcohol with 7 drops of dishwashing detergent without additives.  See http://www.tnt-audio.com/clinica/fluids.html for other solution recipes.
Add several drops of cleaning solution to the discwasher hand cleaner (or old t-shirts work just as well).
Rotate your cleaning device around the record in a way that flows with the grooves of the record.  You're now ready to place your record on your turntable and put the needle on the groove!