Keith Morris' new band Off! Played a high energy set before SF locals Thee Oh Sees hit a reset button to what may more typify the Burger garage band profile. Off! played a set of music that featured some songs from the new 'The Wasted Years' release on Vice records. The supergroup played "Void you out", "Legion of Evil", and "Red, White and Black" from the newest release. The group is a collaboration of Morrris (Black Flag & Circle Jerks) as well as Steven Shane McDonald (Redd Kross), Dimitri Coates (Burning Brides, Chris Cornell & Mark Lanegan) and Mario Rubalcaba (Rocket from the Crypt, Hot Snakes & the Black Heart Procession). Morris joked that 'Burger has a good little shindig' and added 'the world needs new heros' in reference to Thee Oh Sees frontman John Dwyer.
At first glance, Thee Oh Sees sound like a prolific counterpart to bay cohorts Ty Segall, The Lumerians and Wax Idols. Yet, they manage to incorporate influences of Can and perhaps some other Kraut rock vibes into their sound.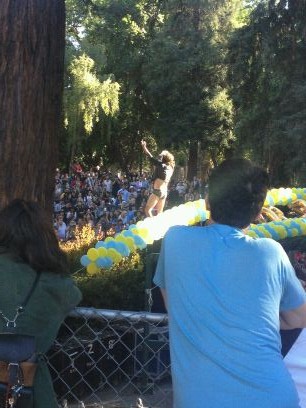 Other bands performing on Saturday included The Bananas, the Phantom Surfers, No Bunny, Reigning Sound and others.
The gathering is held every year coinciding with July 4th and boasts a tent where you can get your own t-shirt pressed with a Burger logo for just $5.